October 25, 2013
10 Inspiring Label Designs
Every now and again we like to shuffle through our favorite label designs and highlight some of what we consider the most interesting and inspirational. These exciting, enticing and, occasionally, delicious label designs will hopefully jar loose some bit of creative genius from your stagnant brain, and get you on the road to designing your own label masterwork. We're here to serve you.
This label manages to combine old-westy charm, distillery know-how and all of the comforts of drinking liquor out of a paper bag in one eye-catching label concept. If you look closely, you'll find that the phrase "Easy Sippin', Good Mixin'" has made its way onto the bottle. If there has ever been a better endorsement for a Christmas season moonshine, we haven't heard it.
How is it possible that an instant food package label can manage to effectively convey homemadeiness? The Briaura Artisan Foods mixes use eye-pleasing light and bright colors, folksy typography and drool-worthy food photos to give their products mega consumer appeal. For our part, we've never wanted pancakes more in our lives.
What says "dapper" more effectively than a thick, silky Windsor-knotted tie? This beer's simple label certainly stands out against its frost-brewed, Ice Cube-endorsed malty competition.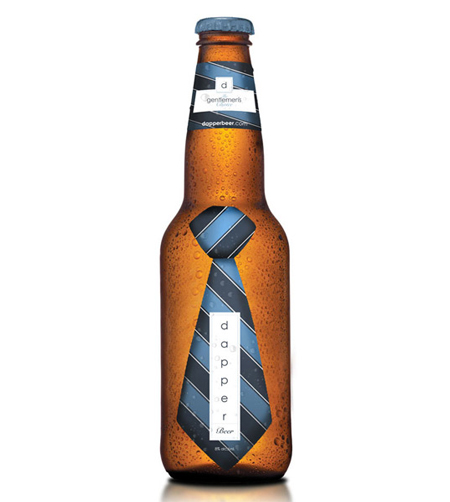 In addition to the forceful nature of the bottle's label (we command you to GET olive oil), the label designers have managed to use label clarity quite effectively in a market that is pretty well dominated by busy paper labeling. The bottle's shape is pretty darned good, too.
All of the label designs for this Texas Distilling Company are fabulous, but we especially like the Fighting Eagle line that we designed. These labels are super bold and evocative; we imagine patriotic Americans with their white suits and Mark Twain hair, delicately sipping martinis while loudly celebrating our veterans.
Look at these beauties! These bottles are so French they barely even seem like beer. We love the deliberately crumpled paper labels and the faded pinup photos. We feel classier and more insouciant just looking at them.
Who knew that 7up could come up with such an interesting, pop-art label concept? Or rather, who knew that the corporate brain trust would ever have the guts to embrace the 7up brand's inherent pop-artiness?
Japanese design is invariably lighter and more whimsical than most American or European design, and these Ippon Matsu Beer labels are no exception – although it might be inappropriate to describe a beer label designed to aid Tsunami reconstruction "whimsical." To an American consumer, they don't even look like what we are used to when we think of beer labels, but the single and simple white pine tree is infinitely more eye-catching than your standard shamrock and busty beer maid graphics. Not that there's anything wrong with shamrocks and busty beer maids, mind you.
With a name like "Froosh," how can your label go wrong? This smoothie brand doesn't shy away from what it is, nor does it try to wholesome you to death. This label tells you loudly, graphically and specifically that this product is just fruit, all squashed up, which is all a smoothie should be.
This wine bottle concept uses the art of Joseph Albers as its inspiration. While it hasn't yet been commissioned by a winery, the designs have already sparked major interest within the design world. Art and wine aficionados will no doubt engage in heady conversations about the Op Art movement and its continuing validity within the spectrum of constantly evolving contemporary art trends, but we just thought, "Q*bert! Cool!"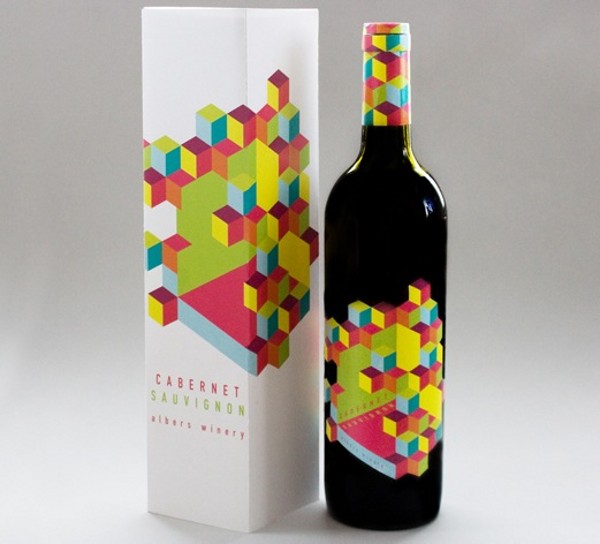 There you have it; some of the label designs that we hold the closest to our hearts. We hope you find them useful, engaging, titillating and perhaps even controversial. Even if they've done nothing but cause you to go out and buy a bottle of moonshine, we still feel we've done our jobs.